On November 30th, 2020 we officially launched ERA Chair WELCOME2 under the EU's Horizon 2020 Framework Programme. Project management team, Advisory Board members, Raluca Iagher -Project Officer, and invited guests got together in an online meeting to inaugurate the onset of the action that will lead the Institute of Animal Reproduction and Food Research PAS to set up a Centre of Excellence in Nutrigenomics and become a desired and reliable partner in the European Research Area.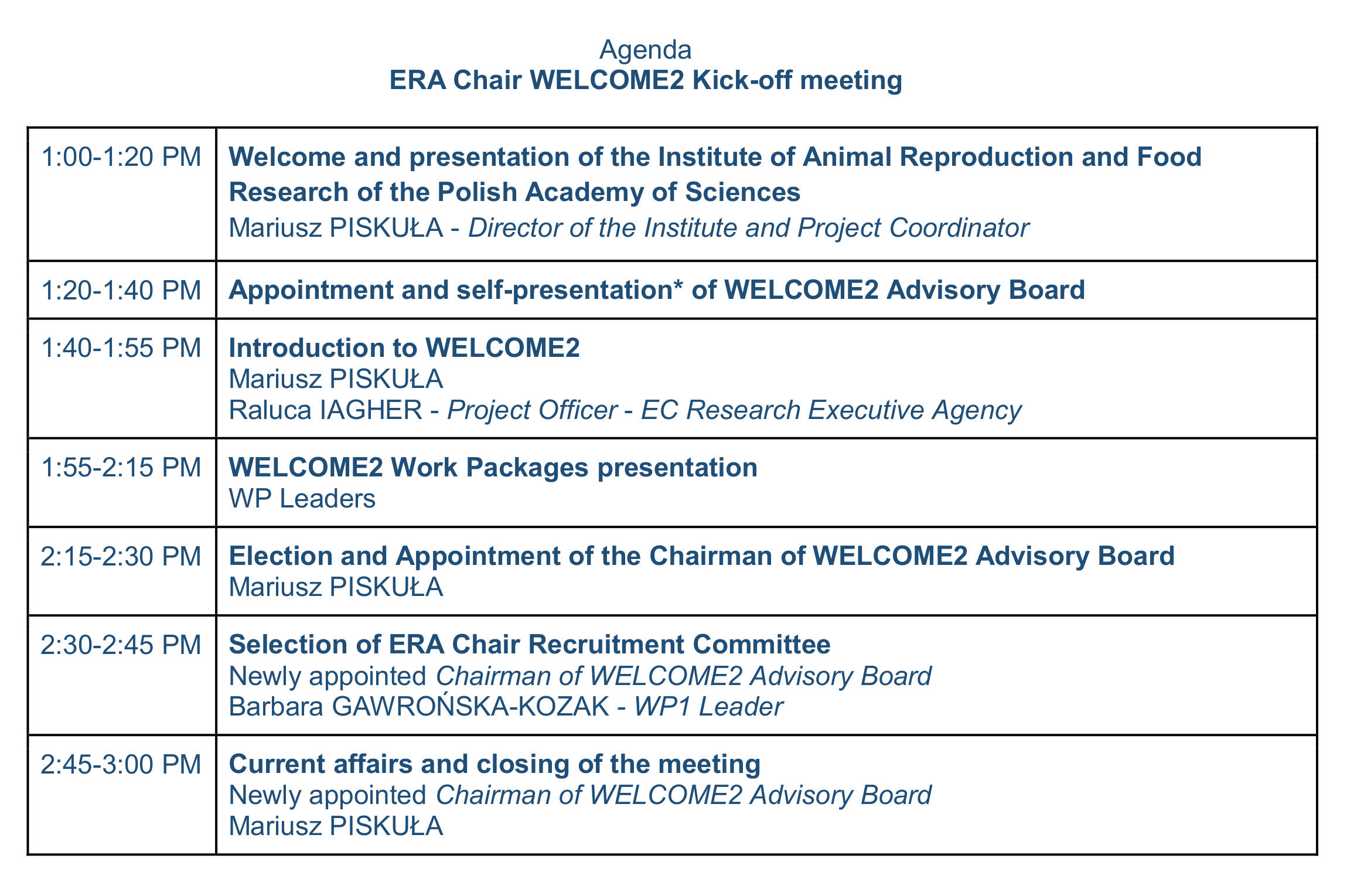 WELCOME2 Advisory Board
One of the main goals of WELCOME2 kick-off meeting was to establish project's Advisory Board composed of recognized representatives of the international scientific community, food and health industry, national authorities and consumer-centric organisations. The priority goal of AB activity will be to assess the execution of the WELCOME2 action plan and to offer the voice of expertise to project's management staff.
Chairman:
Peter van Bladeren – Member Board of Directors of Mérieux NutriSciences (Switzerland)
Members:
Gustaw Marek Brzezin – Marshal of Warmia and Mazury Voivodeship (Poland)
Romuald Zabielski – Vice-president of the Polish Academy of Sciences (Poland)
Andrzej Babuchowski –President of the Institute of Dairy Industry Innovation, Mlekpol Cooperative (Poland)
Susanne Braun – Head of Hohenheim Research Center for Bioeconomy, Hohenheim University (Germany)
Edith Feskens – Chair Division of Human Nutrition & Health, Wageningen University & Research (The Netherlands)
Andrzej Gantner – General Director of the Polish Federation of Food Producers Union of Employers (Poland)
Joanna Kaniewska – Nutrition and Health Senior Manager, European Food Information Council EUFIC (Belgium)
Marta Kutyna-Bakalarska – Head of Innovation at Maspex Group (Poland)
Claudine Manach – Senior Principal Scientist at Human Nutrition, French National Institute for Agriculture, Food, and Environment INRAE (France)
Christine Morand – Research Director of the Human Nutrition, French National Institute for Agriculture, Food, and Environment INRAE (France)
Sergiusz Nawrocki – Vice-rector for Collegium Medicum of University of Warmia and Mazury in Olsztyn (Poland)
Wiesław Oleszek – Director of the Institute of Soil Science and Plant Cultivation IUNG-PIB (Poland)
Anna Śliwińska – President of the Polish Diabetes Association (Poland)
Emily Sonestedt – Nutrition Epidemiology, Research Group Leader, Lund University (Sweden)
Susanne E. Ulbrich – Professor of Animal Physiology at ETH Zurich (Switzerland)
Recruitment Committee
During WELCOME2 kick-off meeting we have also appointed the members of the Recruitment Committee that will lead the selection process of the ERA Chair candidate:
Christine Morand
Susanne Braun
Edith Feskens
Stelios Rozakis – BioEcon ERA Chair holder at IUNG-PIB
Barbara Gawrońska-Kozak – Leader of WELCOME2 WP1
WELCOME2 kick-off meeting chaired by Mariusz Piskuła – Project Coordinator, and Peter van Bladeren – Advisory Board Chairman, laid the groundwork for a cooperative network determined to contribute to a successful implementation of WELCOME2 objectives.